Coach Viglione is one of the most energetic & talented skill development instructors in the basketball world.
She played high school basketball at Sacramento's Del Campo High, where she holds 10 California state scoring records. She broke former USC standout & WNBA player/coach Sheryl Miller's state record for most points in a season, tallying 1,300 pts in 1992. Coach Viglione was the California Player of the Year two years in a row & had 3,089 pts over her 3-yr high school career. She holds 5 national high school records for 3-pointers in a game (14), 3-pointers in a season (169), & 3-pointers in a career (379).
She played at the Univ. of Texas, where she became the 8th leading all-time scorer in UT history. She was the GTE All-American 3 years in a row & the Big 12 scholar-athlete in 1997. Coach Viglione holds the UT single-game scoring record with 48 pts, & the UT career 3-point record with 293.
She played professionally for the WNBA's Sacramento Monarchs and for 9 years in Israel, Turkey, & Italy. Coach Viglione took part in the Nike All Asia Camps from 2009-2019, the Hong Kong Sport 360 from 2015-2019 & the Italy WBCA Camps in 2014.
She is currently the owner of Sacramento Skills Academy. Coach Viglione was inducted into the CIF Hall of Fame in 2014, the Sacramento Hall of Fame in 2015 and the Texas Hall of Honor in 2019. She became an Athletes Unlimited Pro League Facilitator in 2022.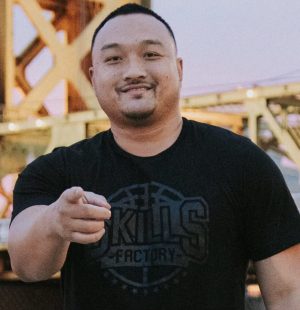 Sam Luong is a native of Sacramento, where he played high school basketball at McClatchy High School. He then played college ball at Dominican University where he named his team's Defensive Player of Year for three seasons and earned a B.A degree in Communications in 2005. From 2001 – 2005, Luong helped lead Dominican to 108 victories, three consecutive conference titles and four NAIA National Tournament appearances.
Honing his professional game every summer in Sacramento, Luong furthered his playing career as a combo guard in Europe. He was named Rookie of the Year/Media Player of the Year in 2006 for the first division Kings Lynn Fury of the England Basketball League, averaging 17.5 points and 5 assists per game. Upon retiring in 2008, Luong led summer skills camps, conducted private training for youth and devoted his time to passing on the life lessons the game has taught him.
"Sacramento Skills Academy is my heart and soul. I love my teammates, Danielle, AP and Aaron. If a player will learn one thing working with us, it's going to be how to work hard at something and get the results they deserve."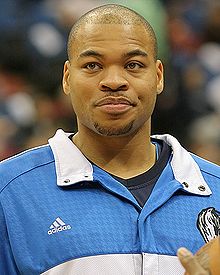 Born and raised in North Minneapolis, Devean George developed a strong drive to succeed at an early age. His parents worked two jobs to send their son to high school at Benilde-St. Margaret's, and he pushed himself physically and mentally to become a college basketball player. Devean went on to become a standout at Augsburg College, and was named MIAC Most Valuable Player for two consecutive years (1997-98, 1998-99). In 1999, George made history and overcame enormous odds when he became the first-ever NCAA Division III basketball player selected in the first round of the NBA draft, by the Los Angeles Lakers. In his first three seasons with the Lakers, the team won the NBA Championship. Throughout his 11-year NBA career, Devean played seven seasons with the Lakers, three with the Dallas Mavericks, and one with the Golden State Warriors.
During his career in the NBA, Devean demonstrated his dedication to making a positive impact on children and families. In each city he lived, Devean became involved in programs serving inner city youth. It was during this time that Devean developed the vision for his own nonprofit, and in 2011 he founded Building Blocks with the mission of combatting generational poverty by creating high-quality and self-sustaining housing, business, and recreational opportunities.
Today, George's post-NBA career combines this dedication to service with his passion for real estate. In 2009, he established George Group North, a company that specializes in both affordable and market-rate multi-family residential development, mixed use projects, and property redevelopment. He serves as the company's President and C.E.O. and the President of Building Blocks.
Past and current development projects include Marketplace & Main in Hopkins, featuring 63 apartments and 7 townhomes; Commons at Penn, a 47-unit mixed-use apartment complex in North Minneapolis; Penn Avenue Union, a 64-unit mixed-use apartment scheduled to close in June of 2018; and numerous single-family properties in the Twin Cities area.
Ruthie Bolton played 8-years with the Sacramento Monarchs in the WNBA. She also played 7-years overseas in Sweden, Turkey, Hungary, and Italy. She is a 2-time Olympic Gold medalist, 3-time Hall of Famer, as well as a 1st Lt. in the Army.
Ruthie is a strong Community Advocate and served at youth camps with the US Embassy for 10-years in Africa, Samoa, Bangladesh, Papa New Guinea, Ukrainian, Armenian Women, and Russia.
As a strong advocate for women and youth, as well as Ambassador for FCA, her message to everyone is: BE BOLD, BE MIGHTY, BE THE BEST VERSION OF YOU…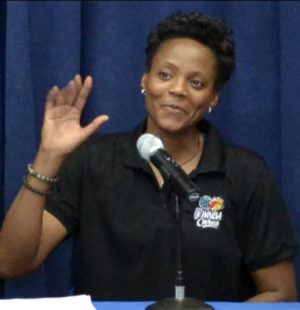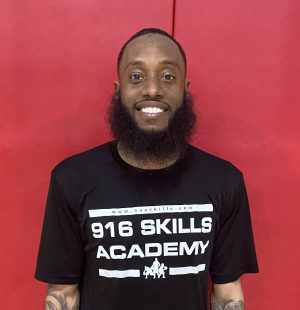 Niko Williams grew up in Mobile, Alabama. Much like any other kid growing up he played a ton of sports but basketball stuck with him the most. Although his basketball career as a player was short lived (due mostly to living in a football dominant state), he did play at the only basketball powerhouse school in the city of Mobile: Leflore High School. While at Leflore, he played alongside current NBA star DeMarcus Cousins. Upon graduating high school, Niko attended The University of Alabama obtaining a bachelor degree in Kinesiology.
After graduating in 2014, Niko moved out to Sacramento, CA to work as an assistant for his former high school teammate, DeMarcus Cousins. While living in Sacramento, he obtained a job working with the Sacramento Kings Junior Kings program. While working with the Kings, Niko met Coach Danielle. Since then, he's been training kids from ages 8-19.  He currently holds the Athletic Director position at Marble Valley Academy in El Dorado Hills, California.
Sundiada "Coach T" Tirado played HS Basketball, 1 season College (San Jose State University), joined the United States Marine Corps serving from 1993-1997. Upon returning he began a coaching and player development career with the game he loved.
Coach T took his passion and love for the game entering the HS level of coaching, coaching at all levels a combined 15 seasons as an assistant or head coach, in hopes of inspiring as many of our youth interested in the game of basketball. Dream big, dream hard, but it's the work you put into the dream that makes the dream a reality.
Coach T has learned personally from some of the great basketball minds such as Mark Few, Sean Miller, Roy Williams, and professionals such as Dan Majerle, Danielle Viglione, Ruthie Bolton, Edna Cambell and many more.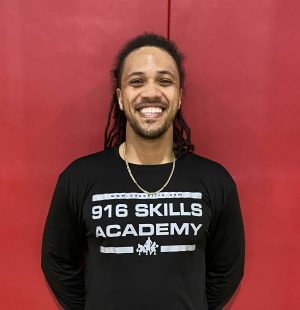 Marcus Forbes is a coach, trainer, educator, and mentor from Folsom, CA. He was a 3-year varsity basketball player for Sacramento High School and Ponderosa High School before attending Occidental College in Los Angeles, where he studied Philosophy and Education.
Marcus spent his time in college coaching both boys and girls travel basketball while teaching English and History in inner city Los Angeles. After his time at Occidental, he was accepted into a graduate program at Harvard's Graduate School of Education, where he studied social entrepreneurship and focused on educational enrichment and personal development within the context of sport and extracurricular programming.
Upon returning to Sacramento, Marcus launched his Forbes Sports & Education Nonprofit, which uses sports as a vehicle for youth empowerment by providing academic support, college prep, mentorship workshops, and a variety of online educational services to youth athletes in Sacramento. Marcus started his Team Forbes girls AAU program as an extension of his nonprofit, and recently partnered with Team Taurasi to provide a Nike platform to girls in the Sacramento area.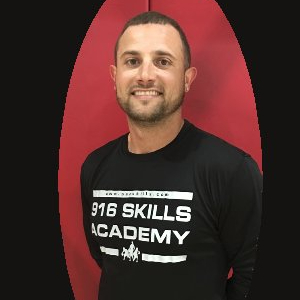 Paul played basketball at Vanden High School, and then Orange Coast College. Paul coached AAU for 6 years, and served as the Varsity head coach at Roseland Collegiate Prep for 2 years.
Paul has been training with Sac Skills since 2017. He does a great job movitating players to reach their potential. His knowledge of the game and his ability to communicate this knowledge to players is a key strength of his training.
Paul does a great job helping players to be the best that they can be on and off the court.